Frequently Asked Questions
This is how we process our orders for maximum efficiency!
If you order on...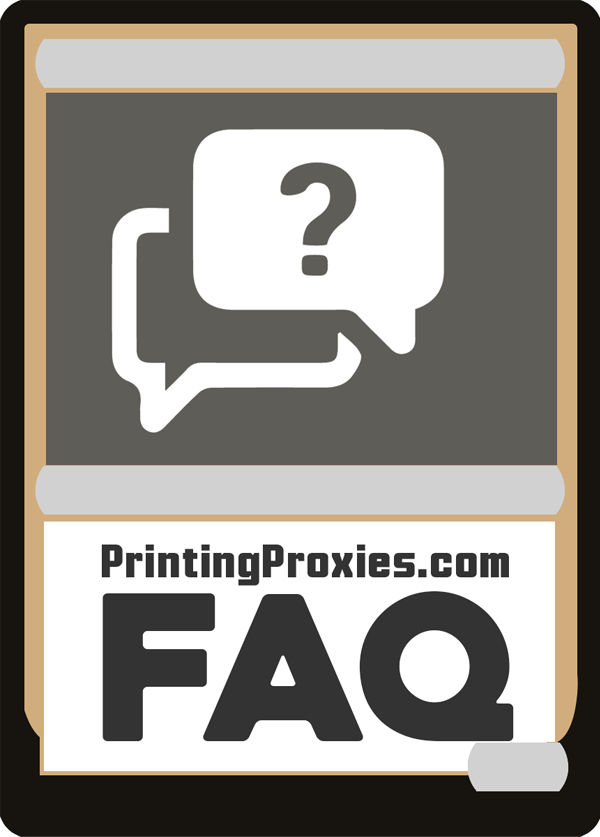 Amazing ! I mean have you seen the 100s of uncensored reviews on our discord ?
They resemble original MTG cards very closely, we use the same card stock ! They are smooth and have a nice flick to them. They shuffle as good as the original cards and once sleeved, there are virtually no differences in feeling.
The quality depend on the visual you pick, or the quality of the upload you send. So take your time and select the best visual available.
No where you will find proxies (not counterfeit) with holographic stickers applied to them, so we decided to also offer those as a separated item (For legal reasons) !
Your order is custom made and created on demand for you, so cancellations are not possible once your order has started. You can always cancel your order if you contact us with in 1-3h after placing your order and the status of your order is not "printed" or "completed". Since the orders are made on demand, we do not accept returns under any circumstances unless you've receive the wrong order. If something is wrong, contact us, we will do our best to adjust and make it right. Cards are well packed and out of our responsibility once shipped. If you are not satisfied with your order, please provide us with your reason for dissatisfaction (include pictures) and, if justified we will offer you a discount or a coupon for your next order.
It's incredibly fast !  We print and prepare all processing orders the NEXT day ! We then get them shipped out the same day or the following onem, depending on USPS's pick up time frame.
We do not print/produce during the weekend.
Shipping time will take between 2 to 5 working in the US (5$) and 8-15 working days for international shipping (25$).
We ship to ALL countries, and all shipping comes with a tracking number.
This is an approximate time frame, in the end, it's all about USPS's will to do their job.
We do not offer faster shipping yet. Sorry.
Yes we ship international, it's 25$ flat for most countries and takes 7-15 days + customs.
Yes, our cardstock is the same as MTG proxy, once sleeve you will feel no differences.
Yes we accept all type of cards, from any game. Use the UPLOAD feature. NSFW is also welcome.
There are no futher discount, than $0.75 for 200 and up, no matter the quantity.